DEER CREEK 

| HEBER VALLEY / PROVO CANYON UTAH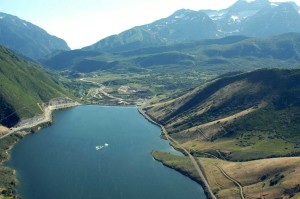 GoldenWave's Offers at Deer Creek
GoldenWave is offering Deer Creek high performance Jet Ski & Waverunner rentals along with water skis, wake boards, tubes, and knee boards. GoldenWave is your Water sports outfitter connection.
Deer Creek Reservoir State Park
Deer Creek is a great place for a quick get away from Utah County or Salt Lake City. GoldenWave can outfit you and your group for the ultimate watersports vacation.  Deer Creek Reservoir is one of GoldenWave's most frequented lakes it is sitting almost in our back yard. It is a quick 20 minute drive from Utah Valley.
Deer Creek  is located just minutes up Provo Canyon and/or just southwest of Heber UT. The reservoir lies in the southwest corner of beautiful Heber Valley provides some of Utah's finest year-round fishing Facilities include a concrete boat launching ramp, 35-unit campground with modern rest rooms and showers, two group-use areas, sewage disposal and fish cleaning stations.  For those who love Skiing and wakeboarding early morning or early evening are your best bets for good water. Deer Creek is infamous for its afternoon winds–you could almost set a clock to them. They usually start around one and last through about four.